Gaeilge / Gaelbratach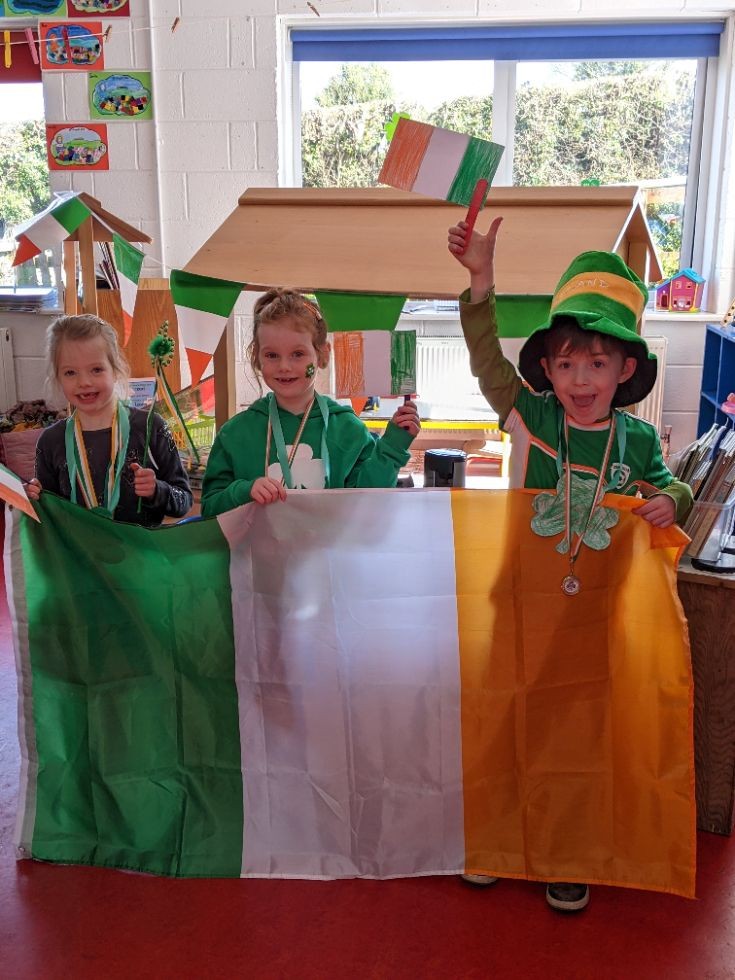 Ba mhaith linn, mar fhoireann, go mbeidh na páistí agus pobail na scoile in ann Gaeilge a labhairt agus a thuiscint ar a léibhéal féin go neamhfhoirmiúl i rith an lae sa chlós agus sa seomra ranga. Cuirfidh muid béim ar imeachtaí a bhaineann le cultúr na Gaeilge mar shampla, ag seinm na feadóige stain agus amhránaíocht. Tá súil againn go mbainfidh na páistí níos mó tuisceanna as ár gcultúr de bharr fhoghlaim na Gaeilge.
Corn De Róiste: Conchubhár de Róiste is a former principal of Scoil Chiaráin and a champion of the Irish language in the community. Normally he returns to the school to engage in a series of informal interviews with students at all class levels, however this year the interviews will be conducted by Múinteoir Kieran. Medals are given to students for their use of Gaeilge and their willingness to engage with the language. The Corn de Róiste is awarded to a sixth class student every year and is a fantastic achievement for the student who will be awarded the accolade.
Lá Glas: We celebrate our last day of SNAG with a Lá Glás. Students can dress up in green clothing and paraphernalia to help add some colour to the day's celebrations. Events taking place on the day include, an céilí mór/Irish dancing and raffles for use of informal Irish throughout the week, presentations of medals and the Corn de Róiste along with other fun in class activities.
Inter School Quiz: Each year senior classes take part in a 'Tráth na gceist' or quiz with several other schools. It's a great opportunity to see Irish being used throughout the community and get to know some other students in the area.
Glacaíocht: We are very lucky to be partaking in fantastic gymnastic classes once a week in the hall but we are even luckier that they can be taught through Irish. Múinteoir Caoimhe uses Irish as her main language of instruction during the lessons which is a fantastic way of using Irish while engaging in a very fun strand of the curriculum. These lessons take place every Friday.
Scannaíocht: Classes watch Irish medium films/cartoons which can be found on the TG4 website.
Dramaíocht agus amhráníocht: Our classes regularly use drama and song to improve our Irish.
Aitheantas: Aitheantas means 'recognition'. During SNAG, students who are making a big effort to use Irish both inside and outside the classroom will receive an 'aitheantas' in the form of a raffle ticket and will earn some great prizes in school. Beatha teanga é a labhairt (The life of a language is to speak it).
Scoil Náisiúnta Chiaráin Naofa,
Stoneyford,
Co. Kilkenny
Phone: 056 772 8393